collective.z3cform.datetimewidget (1.1)
Released on 2011-09-12 by Rok Garbas for Plone 3.0 under LGPL - GNU Lesser General Public License available for All platforms.
Software development stage: stable
z3c.form date and datetime widgets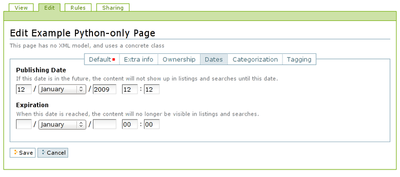 Various z3c.form date and datetime widgets
Improved datetime widgets for z3c.form
When the emphasis of the application you are designing is on speed and speed alone, then the single field pattern might be your friend. It's particularly useful for data entry applications in which the person who has to enter the data will have to use the same input form time and time again.
Document Actions