Python Reel Plone Theme (1.1)
by naomin
—

last modified

2013-12-19
Released on 2013-03-18 by Quintagroup for Plone 4.3 under LGPL - GNU Lesser General Public License available for All platforms.
Software development stage: stable
Free Responsive Plone Theme, features include a unique responsive carousel, header with the top image and background of your choice, social media, a custom logo in light and dark version.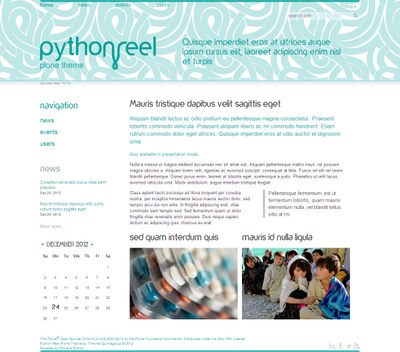 Python Reel is a fresh new free Plone theme, with design inspired by the shape of snake that is an official logo of Python community.
Theme Features

Responsive Web Design
Editable footer
Top image
Responsive Carousel Slider

Top Background Color for Carousel
Social Media to connect with your clients on Facebook, Twitter, Linkedin and keep them up-to-date with your latest news in RSS.
Flexible Layout Structure
Cross-Browser compatible - fully tested and works great with all modern web browsers: IE7+, Firefox 7+, Safari 5+, Chrome 7+
Top navigation menu
Faster loading pages
Mobile-friendly
iPad, iPhone and Google Android devices
Theme Extensions
Products.Carousel adds adjusted styling to banners, displayed on front page or inner site pages instead of the default image.
Document Actions