Products.Carousel (2.1)
Released on 2011-09-06 by Onenorthwest, David Glick for Plone 3.0, Plone 4.0 under GPL - GNU General Public License available for All platforms.
Software development stage: stable
Carousel allows you to add user-configurable rotating banners to any section of a Plone site.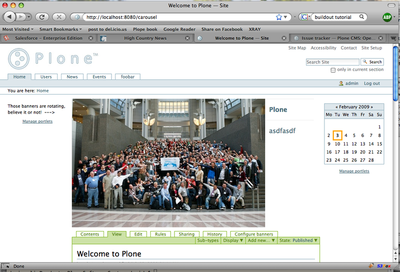 Carousel is a tool for featuring a rotating set of banner images in any section of your Plone site.
Features
Different sets of banners can be used in different sections of the site.
Banners can link to another page in the site, or an external URL.
Banners rotate via a simple fade effect every 8 seconds. This is implemented using the jQuery javascript library which is included with Plone, so it's pretty lightweight.
Clicking on the title of a banner jumps to it immediately.
Images will not rotate while the mouse cursor is hovering over the Carousel.
Document Actions