CMFQuestionnaire (0.7)
Released on 2009-03-13 by H. Turgut Uyar for Plone 3.0 under GPL - GNU General Public License available for All platforms.
Software development stage: development
CMFQuestionnaire is an Archetypes-based questionnaire system for Zope/Plone.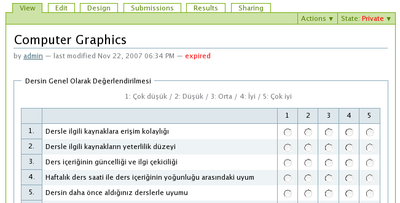 This is the last one in a line of releases that has been used without problems at the Istanbul Technical University Computer Engineering Department for over a year.
CMFQuestionnaire is an Archetypes-based questionnaire system for Zope/Plone. Its main features are:
user-based or anonymous submissions (through a ticket system)
pdf report creation with bar and pie charts for each question
internationalization (currently English and Turkish)
creates only 1 portal type for the questionnaire which is internally represented as an XML document
only radio-button style questions are supported for now (on a scale of 1 to a maximum)
Using
add a questionnaire like any other content type
go to design tab
add a group:

enter the title of the group
enter the scale of the group (the options will be numbered from 1 to this value)
enter the legend to explain the options (put one option on each line, starting with the option for 1)
optionally, enter a description for the group
add / remove questions to the group

repeat for other groups if you have more
if you are using tickets, go to the tickets tab and create as many tickets as you like (multiples of 15 are recommended, since they can be printed out on a page)

note: the number of tickets displayed are always a multiple of 3, so you may not be able to see the last 1 or 2 tickets

publish the questionnaire
go to the Zope Management Interface, the Security tab and check the permissions on who can add, edit, fill-out and view the results of the questionnaire
go to the evaluate tab and see the results or get a PDF report
Document Actions